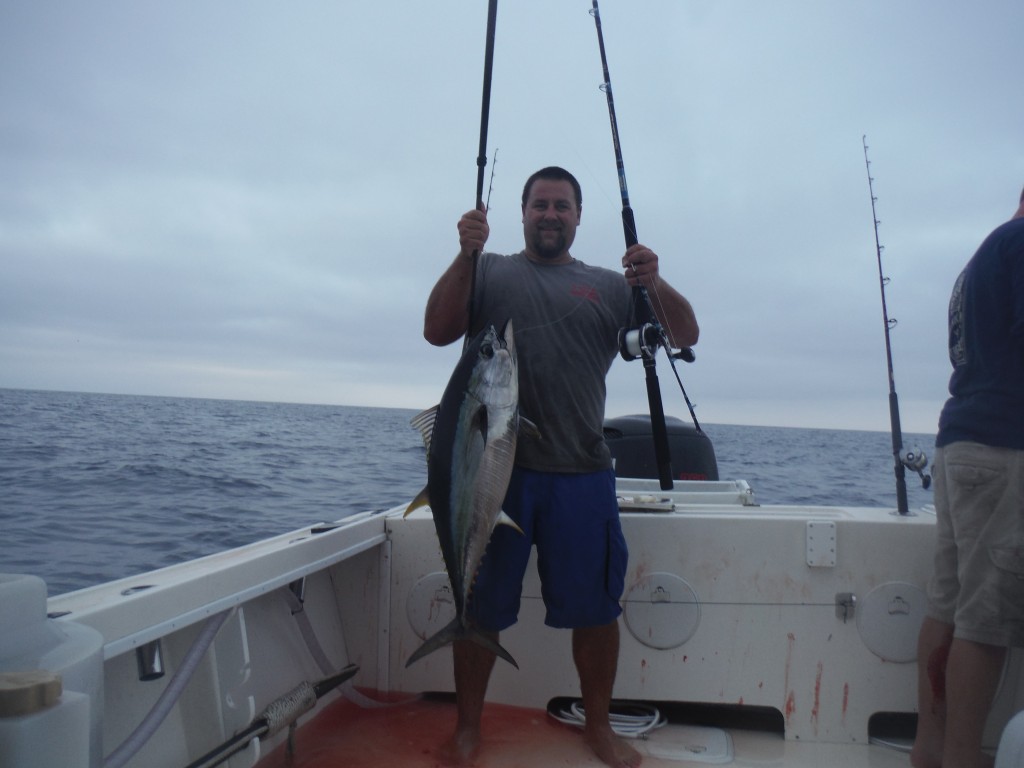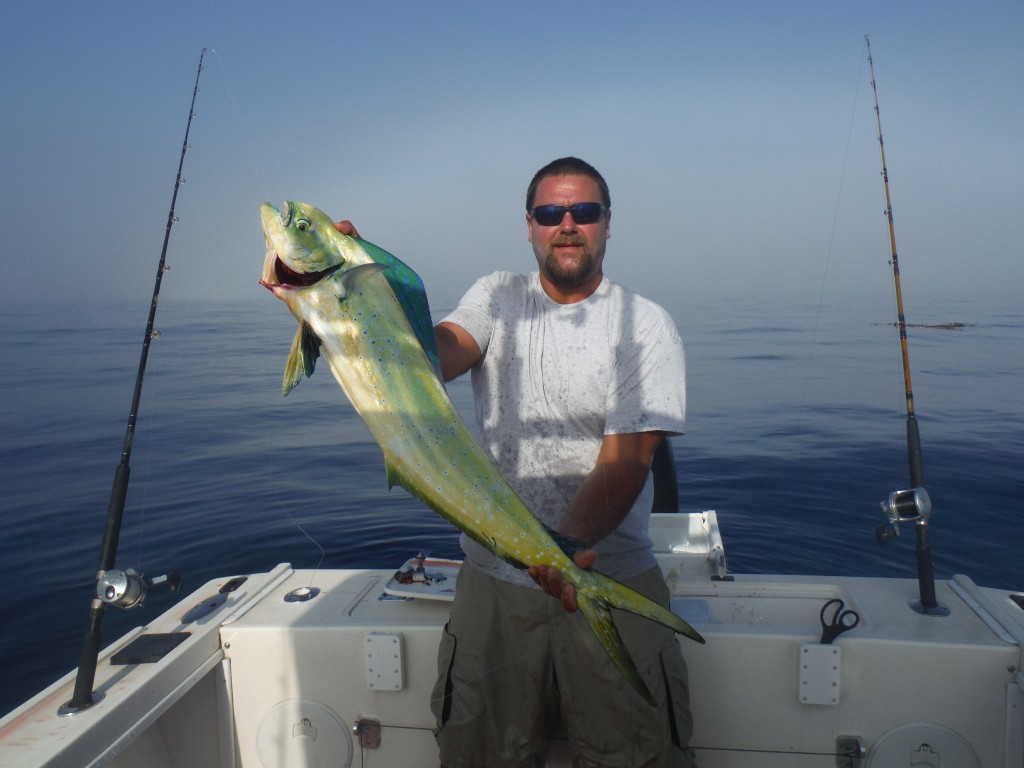 Just got home at 815 this morning, left the ramp at 8pm and drove through the night. A great trip for us even though the fish scores weren't better. Left Eureka with ice at 4pm on tues and got to Dana Point at 430, fueled the boat and splashed and got bait by 545. We ran SW and stopped on a mass of jumping tuna 9 miles out that started 2.5 hours of hot action that got us 13 YFT 12-30 lbs. Fished many kelps and more jumper patches for no more bites. They bit the fly line dines and the chunk was great to us. We also got one on a popper and one that didn't stick on the popper. Broke off about 6 fish. They ate 25-40 mono and floro when they were hot it didn't matter. The south wind came up and we ran inside and slow trolled some macks along the kelp beds for YT but no bites. We ran in by about 3pm. Got the trailer and slip and hotel dealt with and a couple beers and some dinner and hit the rack.
Weds we ran to the same area just a bit closer in found porpoise and slid on them a couple time in gray light but no go. Slid on jumpers on kelps and they were everywhere but would not bite. We decided to go inside by the kelp beds by late morning so we anchored up and kicked back and waited. Finally got some rat YTs going and kept some bonitas for chunk bait.
We fished hard thurs and only got 1 more YFT and 2 nice YTs. We also had 1 hen dodo off a kelp patty and hooked 2 others on it that didn't stick.
I think the full moon has them off the bite and I was metering what I think was red crab, looks like krill on the meter. There was red crab in the bellies of a couple we checked. I'm sure the boat traffic from 2 months of people fishing hard has taken it's toll also but I am watching to see if the bite comes back on. This mornings SST is very telling down there and I would fish it a bit different if we were staying by looking for Bluefin or running long looking for fresh pattys. I may consider runnin back down in mid sept if it picks up again and I am not busy with albie trips at home.
It was a fun trip and learned a lot and had a blast. Had my buddy Jessup and his buddy Jonathan so it was nice to have guys that knew how to fish hard even though we were learning as we went. Driving through the night worked good in rotations and we had no traffic both ways, definitely helped to have a 3rd guy for fishing and the drive home. The dana point inn was a joke after moving us to 3 different rooms that were wrong. Not that great to deal with after being up for 40 hours. It was kind of a dive for the price but they got the location there. The slips were nice as were most of the people down there. Bait was up and down but did the trick. The weather was warm and muggy, most said it's not always like it but I liked it as if made it feel like a real vacation. I just had a nap and now need to finish putting away the catch.
Back home now and looking at the weather here and licking my chops to get offshore again as the break off Orick looks great and the weather looks good starting sunday for several days. I will likely be setting up albie trips this week (sunday -thurs), holler if you want to get on.
Marc
707-601-3474