Eureka Fishing Boat & Gears

Scrimshaw
Scrimshaw is a 2008 Steiger Craft 255 DV Miami that meets all US Coast Guard requirements for 6 pack charters and  has;  an open backed cabin with room for 6, a real toilet in the focsle, a huge unobstructed cockpit to fish from, and has large fish holds fore and aft. She is powered by a smoke free and quiet 300 hp Yamaha Offshore Series 4 stroke outboard. She has a complete electronics package including a Garmin 1242 xsv chartplotter with HD radar, a Furuno 627 bottom discriminating fish finder with a thru hull transducer for clear pictures at high speeds, and three VHF radios including an icom that has a built in AIS receiver that shows shipping traffic on the chartplotter. She is equipped with a Garmin autopilot system and has a Sitex water temperature gauge with a thru hull sending unit. We also carry a backup handheld VHF, GPS, and personal locator beacon for redundancy as well as a Category 2 EBIRB for another layer of safety. She sits on a dual torsion axled aluminum trailer and is ready to chase fish from ports other than Eureka when the seasons and fish tell us it's time to do so.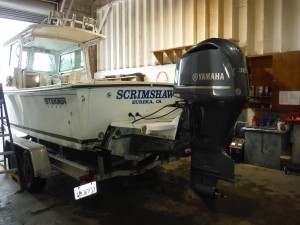 She is also equipped with 4 electric Scotty 2106 downriggers for trolling for salmon and Bly carbon fiber outriggers when we are trolling offshore for tuna. She also can have her 20 gallon livewell bag on the stern and 22 gallon Kodiak live bait tank on the deck, both which are easily put on for those tuna trips or bay halibut trips when live bait is available. The big insulated and plumbed fish holds and an insulated fish bag for those big tuna slaying days assure you great quality product at the end of the trip. For the times of the year we have crab gear in the water, there is a commercial rated Northwest Quality Products Safe-T-Puller that easily pulls loaded commercial crab pots to the surface mounted on the forward starboard gunnel. 
Gear and Tackle
All gear and tackle is very well maintained quality stuff. We have some super high end stuff but most is the best stuff I have found for doing what we are doing everyday. Most action comes on our Seeker Black Classic 870s which have Penn Squall levelwinds on them. We fish the Squall 20s with 30 lbs mono for salmon and livebaiting albies and have another set of 870s with Squall 15s loaded with 50 lbs braid for fishing rockfish,  sharks/rays, and when the salmon are running really deep on the troll. We also carry G Loomis and Lamiglass mooching rods on the boat topped with Penns having 20 lbs mono for mooching and California halibut fishin.  Pacific Halibut outfits are Seeker SSR rods matched with Penn Squall 30 levelwinds as well as a Seeker Alaska Hali rod with a Squall 40 for the bow rod and all are loaded with 65 lbs braid to keep as tight to the weight as possible. I do keep a couple lighter Seeker 660Hs on hand with Classic Penn GTi 330s for anyone who wants to jig for halibut, which is my favorite way to catch um. The tuna arsenal is large, with over 20 outfits packed on tuna runs. We are ready for casting to jumpers and dropping back to fish on the slide with irons, swimbaits, and bait hooks tied on the light gear and have everything from Shimano TLD 25s to Penn International 16VSXs and 50VSWs on all Seeker rods for the troll gear and casting rigs. We carry a flying gaff when offshore so we are ready for that once in a lifetime event and always carry a pair of aftco fiberglass gaffs that are ready NOW!
All fishing gear and bait is included when coming on a fishing trip with us. If you have a favorite rod and reel you want to use feel free to bring it along and you can use as long as it works with the other gear we are using that day. I am a tackle geek and am happy to talk tackle box about what works or doesn't with what your trip has planned. I like to fish light tackle for salmon and rockfish/lingcod and can usually accommodate the greater challenge to honed anglers that charter the whole boat, just let me know when booking if that is something you want to do if conditions allow. We also use Redwood Coast Spreader Bars offshore for tuna and their Godfather and Barndoor Rigs for Pacific Halibut among other things, they prove themselves again and again almost every trip.
You need to bring a current fishing license (crab endorsement if crabbing) valid for the day or year exceot free fishing days, food/drinks and ice (ice chest is provided on the boat), and dress warm in layers as weather can change quickly (non marking shoes or boots only please). Waterproof boots are highly recommended on tuna trips and are nice thing to have on all other trips too but not necessary if you don't have any.
Contact Capt Marc for bookings.
707-601-3474 (FISH)                                                    Coastlinecharters@gmail.com