Captain Marc Schmidt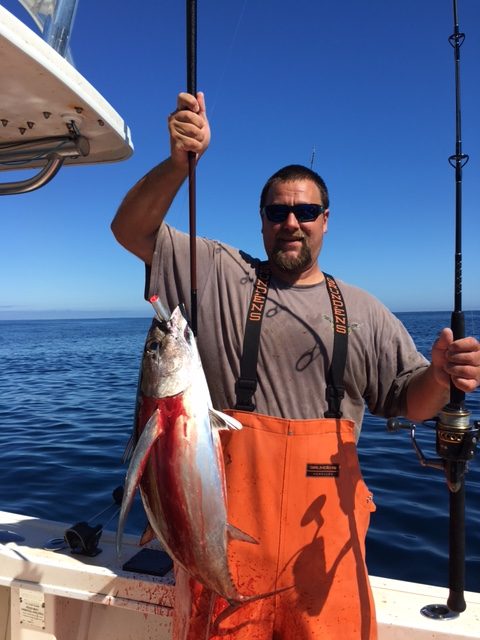 Hey All! I'm Captain Marc Schmidt (often going by EurekaMarc on the water). I've always loved being on the ocean and thoroughly enjoy boats, fishing, and sharing the out of doors with other people. I started fishing the ocean with my Dad out of Santa Cruz when I was 4 years old catching lingcod and rockfish off of Davenport. Fast forward a few decades and I am settled in just outside of Eureka with my wife, daughter (3/26/12), and son (1/23/16) and have learned all the various ports and most of the coastline between Monterey and Crescent City in the years since those first trips that hooked me.
I spent many of my years growing up fishing bass on the local reservoirs and ponds during the weekdays and heading out to fish the ocean on the weekends. I've been fanatic about fishing since I was that little kid and learned early to really key in on the small details that make the difference between bites and none. I have taken my bass boat across the country fishing all the big name bass lakes and even had it out in the Florida keys fishing for tarpon. I have fished the oceans in various locations in Mexico, Costa Rica, Florida, Alaska, and Hawaii, as well as fished many areas of the San Francisco Bay and the Sacramento-San Joaquin Delta and many other rivers, lakes, and streams throughout the country. I have even won some fishing tournament trophies from over the years to show off but my wife keeps taking them off the mantle. I have also taken several trips on the Intrepid out of San Diego to target big Yellow Fin Tuna and wahoo in distant Mexican waters. I had the fortune of landing a fish of a lifetime on one trip that weighed in at 350 lbs, and have had many in the 100-200 lbs class on other trips. Big fish fishing tests your gear and confidence and has taught me a lot. I have seen a lot of different rigging and techniques in my travels for all types of fish and conditions. I use that to pull from and know what it takes to find the biters and to put fish on the boat.
My wife and I moved to Eureka in 2001 to finish up our college years at Humboldt State University, after getting our AS degrees (and meeting) in the Park Management program at West Valley College in Saratoga. I wrapped up in the Spring of 2004 with a BS degree with a Wildlife major and Natural Resources minor. I was blessed to be able to study the fish, wildlife, and plants that are such a big part of our lifestyle and surroundings and truly appreciate what they offer the sportsmen and women in northern CA. There was plenty of fishing and hunting in those years to keep me out of trouble and the freezer stocked with fresh meats of all sorts and the annual harvest cycle still continues every year. After fishing season winds down on the salt, I take to the hills and the marsh for deer and ducks. I consider myself a lifelong learner and love to hear what others have to share with me and hearing about their adventures in life.
I come from a long line of carpenters/contractors and have been a general contractor (Coastline Construction – CA license # 883201) since 2006 and before that had been on the payroll for our family construction company my Grandpa started in the 50s since I was 14. I spend the winter commercial fishing and doing various construction projects throughout Humboldt County. I commercial fish salmon, tuna, halibut, groundfish, and blackcod on one of my other boats, "Reel Magic", a 25 ft Farallon. I still fish some commercial trips a few times through the sport season if the timing works out, but dI edicate the majority of the spring through fall to chasing fish with my clients aboard the "Scrimshaw". I always keep close tabs on the weather and current conditions in all of northern CA as well as keep connected with others fishing in the area and various parts of the state almost daily. I am a very savvy but safe USCG licensed captain and will do what it takes to have a great trip for you. Give me a call and lets go find some biters!
707-601-3474 (FISH)          Coastlinecharters@gmail.com